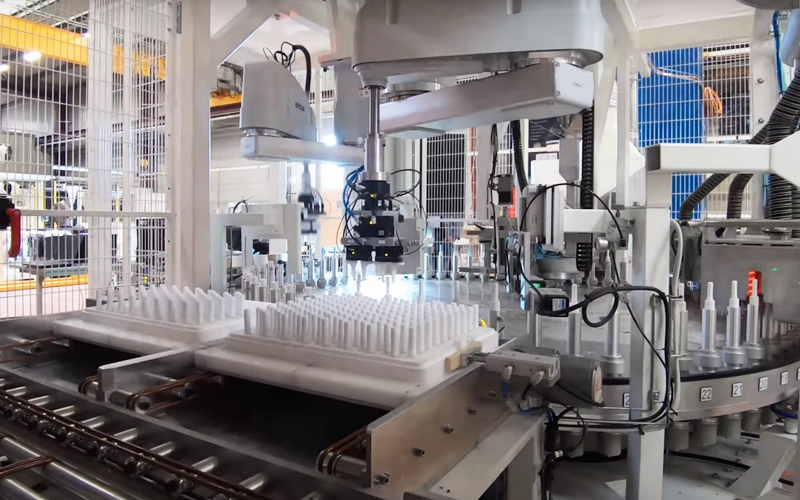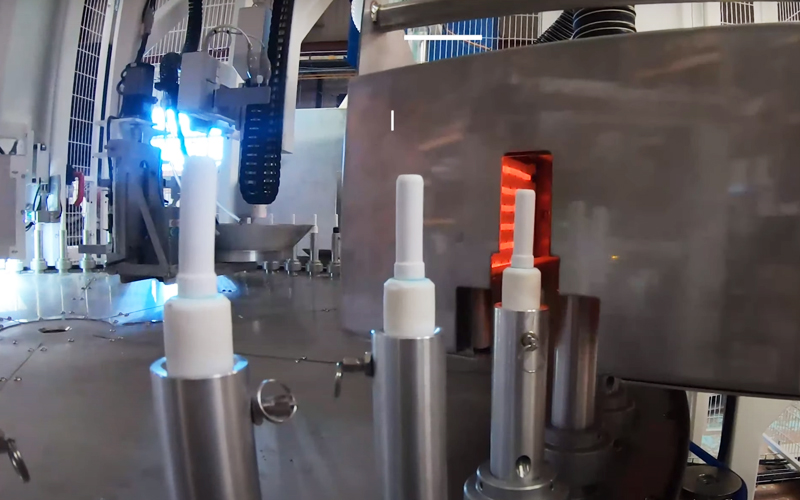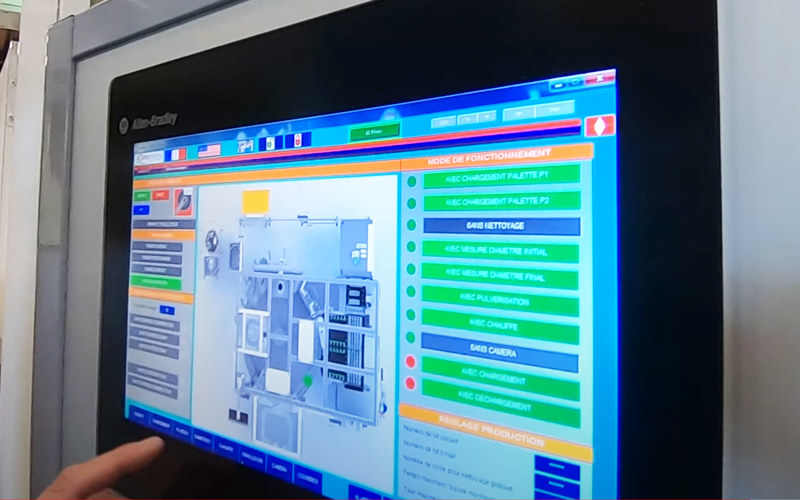 CERINNOV
presents its latest generation of advanced robotics & automation glazing machine, the
RPE-1×72
.
This machine is to be integrated into the spark plug production line of TENNECO in France.
TENNECO is an American multinational company and one of the world's leading manufacturers of automotive products, present in more than 300 sites worldwide.
The CERINNOV RPE-1×72 machine automatically sprays glaze on the ceramic part ("the insulator") of the spark plug at a rate of 2100 pieces per hour following the below steps.
Insulators are first inserted in the machine through a 7-level tray accumulator using the FIFO method. Then a transfer system brings the boxes of insulators from the accumulator to the machine and then sends the empty boxes back from the machine to the accumulator.
Inside the machine, a loading robot picks the insulators from the boxes and places them on a 72-position turntable. This loading pattern can adapt to any box, the picking is fully programmable to match the shape of the box.
A first quality control module measures the insulators, sorting compliant or non-compliant insulators. Compliant insulators proceed to a preheating module before entering the glaze spraying module.
The spraying module applies the glaze around the insulator with high precision and constant thickness. During the glazing phase, excess glaze is recovered bringing two benefits: keeping the machine clean at all time and reducing the cost of glaze.
After glazing, a second quality control laser and vision module measures the insulator thickness, checks its surface quality and instructs the unloading robot to qualify or to reject the insulator.
A complete traceability of each insulator is available, with possibility to use several control parameters and provide trend curves for each parameter.
The unloading robot stores the qualified insulators onto a smart fast-track conveyor, to feed the next stage of the TENNECO spark plug production line.
---
CERINNOV Group invites you to watch the new RPE-1×72 machine in action in this video.