Thanks to the experience gained through the brand MALKIN and CERICO, CERINNOV Group is an actor for years in the field of decoration and offers its know-how and experience for the decoration of ceramic, glass or metal articles.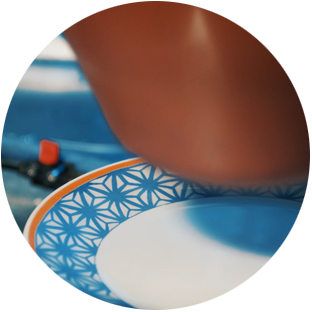 PAD PRINTING
CERINNOV owns skills in both pad printing processes:
Total Transfer : An offset screen is used to print patterns on an intermediate substrate from where it is picked up and transferred to the ware by a silicone rubber pad;
Engraved : Using an etched steel or polymer plate to generate the pattern and silicone rubber print pad to transfer the image from the etched plate to the ware.
Ceramic or organic colors can be used for the decoration.
HEAT RELEASE DECAL APPLICATION
CERINNOV has developed a range of automatic machine for heat release decal application:
By silicone pad for complex shaped items;
By silicone roller for 360 degrees application.
Ceramic or organic decals can be used with this process
LASER SINTERING
CERINNOV, from the patents deposited by Cerlase, has developed its experience in the laser decoration.
This process is used for items customization and for the decoration of complex shapes or hollowware.
SPRAYING
CERINNOV offers different equipments for:
Electrostatic spraying of mineral enamel (imitation of acid etching);
Aqueous spraying of enamel or organic colors.
LINING AND BANDING
Since the first machine developed by MALKIN, Cerinnov has never stopped improving its experience in lining and banding of mineral colors or precious materials.