CERINNOV Group is able to bring to you its expertise for your projects of modernization, extension, new plant for ceramics.
Our services include:
Global engineering
Definition of the equipment
Study of pastes and glazes
Technical support and customer's staff training.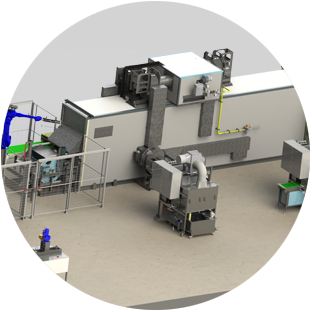 GLOBAL ENGINEERING
Our experts will assist you during the whole project stages:
Definition of work flows and layout drawings,
Energetic and environmental studies,
Production Optimization
DEFINITION OF THE EQUIPMENT
Thanks to its large range of equipment and to its industrial partnerships, CERINNOV offers you:
Definition of firing cycles,
Advising for optimal process choices and corresponding equipment,
Setting up of quality control procedure depending on the country's legal system.
STUDY OF PASTES AND GLAZES
CERINNOV R&D team is able to provide you:
Studing and characterization according to your raw materials,
Optimization of the casting slip and the jiggering body,
Glaze optimization.
TECHNICAL SUPPORT AND CUSTOMERS STAFF TRAINING
For your projects, CERINNOV is particularly focused on:
Domestic outsourcing,
Plant commissioning by our process experts,
Customer staff training in France and / or follow up in your country.