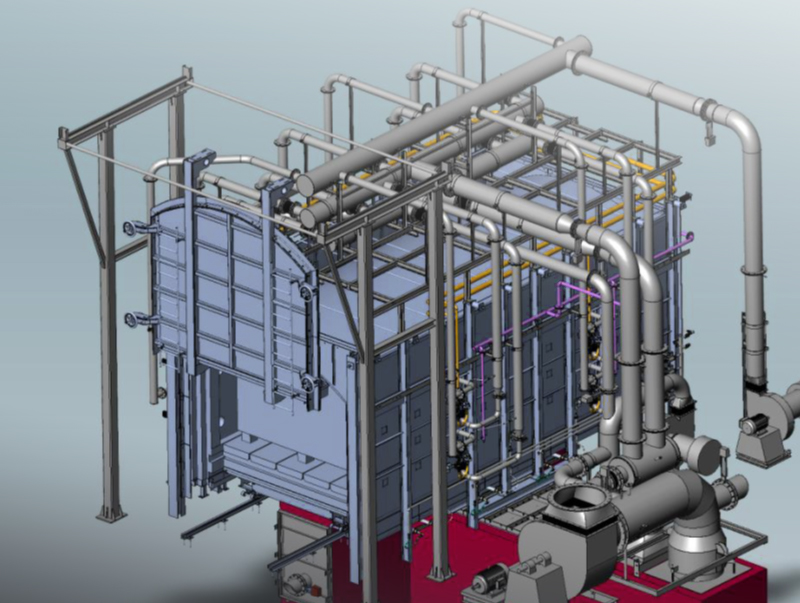 CERINNOV Group through its WISTRA brand, a global reference in thermal engineering for technical and advanced ceramics, signed a contract in September 2020 for design, manufacturing, supply and installation of a new kiln in India, for a leading international player in the glass industry.
The Shuttle kiln is perfectly customized and adjusted to the need. It has a 26m³ useful load capacity and is designed to fire Alumina and Nitride Bonded Silicon Carbid (NSiC) products. It operates in higher and lower temperature cycles with a maximum of 1700°C and is made of high-quality bricks for optimum insulation. Kiln cars meet 2 different temperature classifications, each dedicated to a specific production.
In particular, the firing of Nitride Bonded Silicon Carbid relies on a modulating nitrogen injection in each kiln car, individually. An oxygen analyzer monitors the atmosphere via a control cabinet. The PLC corrects the air/gas ratio according to the percentage of oxygen setpoints in each cycle segment.
Undoubtedly, this kiln provides a 2-in-1 solution, with a flexibility allowing significant reduction in operating and production costs while meeting strict technical requirements. Moreover, the transfer car and the kiln cars are compatible with the existing plant set-up to facilitate the integration within the full production unit.
This kiln complies with all modern standards of energy efficiency and consumption, thanks to the use of high-velocity re-circulation burners, preheated combustion air, combination of special impulse and continuous firing system. These specifications result in guaranteed performance and reliable production.