Based on patents aimed to reduce energy consumption and increase flexibility, CERINNOV Group has developed a range of laser machines to satisfy all your marking needs.
Specialist of the interaction laser-material, and owner of a "laser sintering" patent deposited since 1996, CERINNOV provides unique opportunities to fix a powdery deposit material on ceramic, glass, metal substrate, which includes:
Marking traceability and authentication
Functionalization and melting
Cuts drills and welding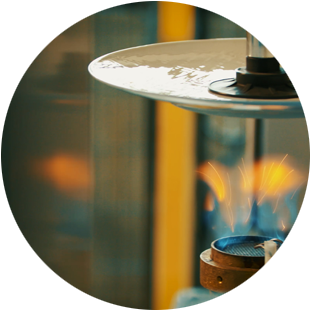 MARKING, TRACEABILITY AND AUTHENTICATION
Creation of decorative or traceability marking which answers to precise specifications (colorimetry, chemical resistance, mechanical, thermal);
Product authentication and fight against counterfeiting thanks to a specific optical tracer integrated in laser sintering powders. They reflect a unique signature when the optical tracer is excited at a specific wavelength (developed together with Naomarq).
FUNCTIONALIZATION AND MELTING
To functionalize surfaces (thermal, dielectric, chemical barrier);
To reach very high temperatures;
The melting of raw materials;
Energy savings;
High flexibility.
CUTS, DRILLS AND WELDING
Realisation of an organic coated ablation on glass, metal or plastic;
Cutting or drilling glass or ceramics;
Welding glass/glass, ceramic/glass, metal/ceramic and metal/glass by laser sintering of mineral powder.